Facilities & Services
Spa
Restaurant
BBQ Facilities
Coffee Shop
Poolside Bar
Room Service
Daily Housekeeping
Dry Cleaning
Luggage Storage
Safe Deposit Boxes
24-hour Front Desk
Concierge
Free Wi-Fi in all area
Swimming Pool
Airport transfer
Bicycle Rental
Car Rental
Shuttle Service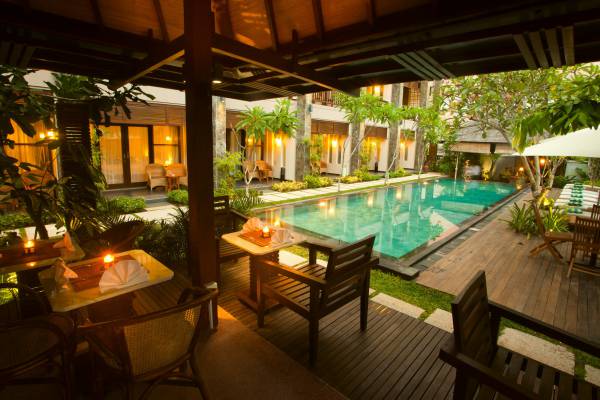 The Asri Resto & Bar
Open for the all-day dining pleasure of in-house guests, The Asri Resto & Bar is a charming pavilion overlooking the refreshing waters of the swimming pool. It blends seamlessly into the outdoors with table settings spilling onto a timber sun deck.
Read more..
A delicious menu of authentic Indonesian cuisine is driven by the availability of market-fresh ingredients. House specialities include Crispy Fried Duck and Balinese AyamBetutu, which is chicken, infused with local spices and cooked in banana leaves.
The bar quenches thirsts throughout the day and night with an extended menu of tropical cocktails, premium spirits and icy cold bottles of beer. Gourmet coffees and teas are also available along with blended fruit juices made to order.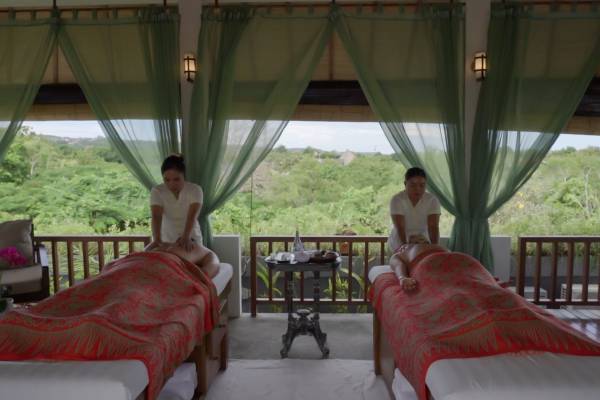 The Lestari Spa
Dedicated to body, mind and spirit rejuvenation, The Lestari Spatakes a holistic approach to personal wellness with a nurturing menu inspired by Indonesia's traditional healing heritage. Treatments have been created to counteract the effects of living in today's modern world.
Read more..
As a sanctuary for sensory indulgence, The Lestari Spa is staffed by a team of intuitive therapists trained in the power of touch to release tension and restore depleted energy levels. Only branded beauty products and natural ingredients are used to nourish the skin.
The Lestari Spa offers renewing treatments for individuals as well as couples. Other healthy lifestyle activities such as yoga and meditation led by a qualified instructor can be arranged on request with prior notice.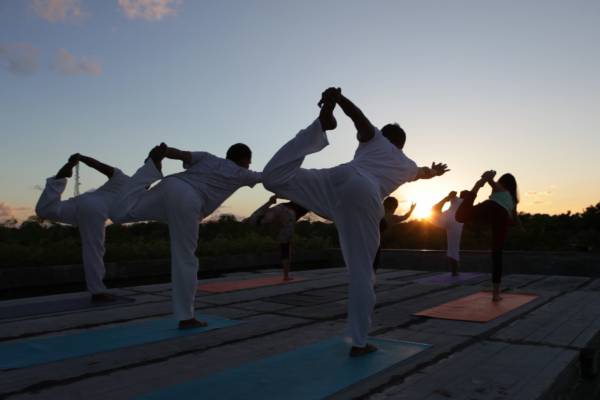 Rooftop Sunset Yoga
The ultimate aim of Yoga is one of self-development and self-realization
The Astari Villa & Residence provide Yoga & Healing, take place in rooftop, which has 360 degree view of the greeney gym of Jimbaran, sunset view with sea breeze is perfect spot for yoga.
Read more..
Yoga is an ancient art based on a harmonizing system of development for the body, mind, and spirit. The continued practice of yoga will lead you to a sense of peace and well-being, and also a feeling of being at one with their environment.
Yoga for Healing is a holistic practice that addresses the mind, body and the soul. We allow our bodies to build strength gently while working to heal our nervous system and mental space.
The practice of yoga makes the body strong and flexible, it also improves the functioning of the respiratory, circulatory, digestive, and hormonal systems. Yoga brings about emotional stability and clarity of mind.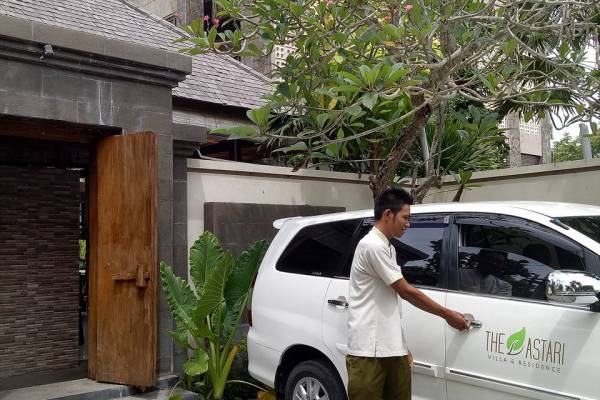 Shuttle Service
The Astari Villa and Residence is aspired to bring the best experience for its guests during their stay in Bali. Visiting to Bali is not complete without going to Bali most famous and wellknown beach, Kuta and Nusa Dua. Therefore, The Astari Villa and Residence provide complimentary shuttle service by request tothose two famous destinations. The services will be DROP OFF only and available by request or appointment the day before. The time schedule for the service is available below.
Airport Pick Up and Drop Off is also available for The Astari Guest at very affordable cost (Only $20/trip). The service uses MPV type of Vehicle that can bring up to 4 persons in a vehicle with spacious trunk. Make sure to book your airport and pick up drop off through our front offi ce representatives.
Read more..
The Astari Private Shuttle Service is also available for Bali Day Tour Package. If you want to see Bali true authentic culture, culinary, and living, this is one of the best options for service that you can choose. Please see the Tour Package Section in the directory for price and places of interest.
Destination Area
Drop Off
Time
Kuta
Discovery Shopping Mall
10.00 am
Nusa Dua
Bali Collection & Benoa
02.00 pm
Jimbaran
Jimbaran Beach
10.00 am, 02.00 pm & 05.00 pm
Airport Pick-Up and Drop Off
Available at any time for US$ 20 / trip. (Please contact us at info@theastari.com for reservation)